| | |
| --- | --- |
| Orig. Price: | $76.99 |
| Sale Price: | $66.99 |
| Prod. Code: | SSSK |
These are the individual products included in the Skate/Snow/Ski Kit.
(1) Ski Rack - A-5060 (5"w x 4"d x 4"h). Safely holds one pair of skis. Integrated side hooks secure ski poles and goggles. Space saving design needs only 5" of wall space.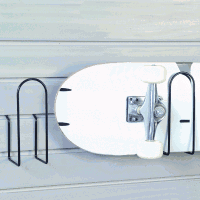 (1 Pair) Skate & Snowboard Rack A-SH (3"w x 3"d x 7"h). Safely holds your favorite skate or snowbaord rack. Easy to store and remove.
(1) Basket-Small B-B13 (12"w x 12"d x 4"h). Unlimited storage uses for gloves,boots, supplies, sports gear... Ventilated basket allows air movement, visibility, and keeps harmful items out of reach.
(6) 4" Hooks H-H4-1 (1"w x 4"d). Use to hang a virtual unlimited number of items. (Quantity of 4).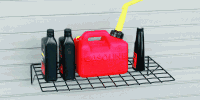 (1) Wire Shelf-Big S-S24 (24"w x 14"d). Use to store your larger sports items.
---
Total kit includes: 1-Ski Rack, 1-Skate/Snowboard Holder(pair), 1-Small Basket, 6-4" Hooks, 1-Wire Shelf, 6-Hook LOKs