SLATWALL ACCESSORIES - All TYPES
Baskets, Hooks, Shelves, Sports Storage, Tool Storage, Storage Bins
FREE SHIPPING ON EVERYTHING!
Below are links to all our slatwall accessory categories. All these items are spaced on the industry standard of 3 inches between slots/slats and will fit either our HandiWall or storeWALL branded slatwall (as well as most other brands). Before purchasing items that attach to two or more slots you should measure your existing panels to insure they are on the 3 inch spacing standard (see image below). If you are purchasing new slatwall panels from us then no worries - all these items will work with your new panels. From cups to canoes we have the slatwall storage solution for you! Slatwall baskets, slatwall hooks, stawall shelves, sports storage, tool storage, and more!
Click on any category below to view those type items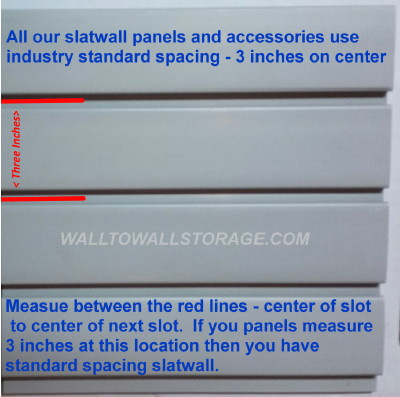 Slatwall Hooks: Use to hang, hold, store, and display an unlimited amount of items. From cups to canoes we have the storage hook for you!
Slatwall Baskets: Use baskets for items that don't lend themselves very well for use with hooks. These are great for storing items such as Lego's (in kid's playroom), car care products (in garage), balls, craft items, paints, etc. Let your imagination run free as these baskets can be used for almost any purpose.
Slatwall Hangers: Storage hangers are designed with a specific item in mind. Be it a wheelbarrow, ladder, garden hose, or your favorite whatever! They provide the perfect solution for those odd shaped items!