Hercke Metal Cabinets
Stainless Steel & Powder Coated Metal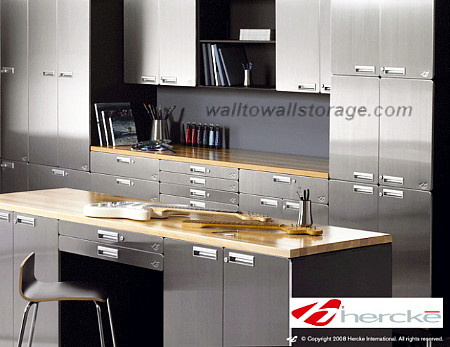 Introducing Hercke Steel Cabinets:
A Top Of The Line Product That Will Take All The Punishment You Can Dish Out.
Note: Due to unpredictable and erratic product availability issues during the Covid19 pandemic we have decided to suspend sales of this product line until further notice. We will relist them once things return to normal.
Hercke Organization Solutions are designed for a growing segment of discerning individuals who appreciate sophisticated, high-quality design in every aspect of their lives. When it comes to upscale storage, Hercke cabinets offer the best value on the market with an unmatched combination of beauty, affordability, and quality.
Modular Components are Versatile and Reconfigurable

Elegant Forged-Steel Doors (Available in Stainless Steel and Silver Powder Coat)

Durable Powder-Coated, Forged 18GA Steel Cabinet Cases. Double the thickness of standard duty NewAge Cabinets & 1-5/8th's thicker than Gladiator RTA Cabinets!

Innovative Features Found Only in Higher-End Cabinetry

Easy Assembly - only a screwdriver is required

24" Deep Units

- Great for Your Larger Items

Warranty - A Limited Lifetime Warranty is Provided by the Manufacturer
Besides the garage, Hercke is ideal for anywhere else people need smart, space enhancing storage:
Commercial Locations (all cabinets include lock & key)

Industrial Storage (all cabinets include lock & key)

Home Office

Kitchen

Laundry Room

Hobby & Craft Room

Outdoor Areas
Hercke Youtube Video Demonstration
Support Small Business!

Hercke Modular Garage Storage
The "biggest door in your house," as the folks at Hercke describe the garage door, is no match for this company and its intriguing line of products. "Chaos defeated, order restored" is the company's rallying cry.
With the help of Hercke, you'll open your garage door with new (possibly hands-on-hips, slightly smug) pride. We know how most garages can become the catchall for the overflow of life. At Hercke, we are the easy, smart and attractive solution to any size garage and any level of clutter. The garage is an undervalued, underused, often abused space — reclaim that space with the unlimited flexibility of Hercke — open the door to the potential of your garage.
Designs are sleek and modern, and cabinetry is built with 18- to 19-gauge stainless steel to ensure long-lasting durability. Cabinets assemble in minutes. One Phillips screwdriver and an innovative hinge application make it a simple snap. Gas Glide Doors are self-closing and all drawers and cabinets have locks.
Because of its appealing design, Hercke cabinetry systems purchased for your dream garage could easily end up being used in the rest of the house. Customers have installed them in kids' playroom, mud rooms, laundry rooms and even as an added storage and work surface in the kitchen.
Hercke also produces a garage lounge, which is out of this world. The 7.2 model comes with stainless steel cabinet facings and black powder-coated steel frame, while the 7.3 model comes with powder-coated chrome color cabinet facings and black powder-coated steel frame. Both systems are impressive and massive, and an ideal choice for someone who wants to make the most of what space they have available.
Commercial Applications:
In a space that requires both everyday functionality and extraordinary form, Hercke organization and storage takes business to a new place. We are storage that you don't have to hide and we are organization that features undeniable style. Hercke works in the office, lab, industrial application, the design operation, the architectural firm or any professional space that appreciates efficiency, flexibility and sophistication in all forms. Hercke — a great idea at work. Clutter slows everything down. Clutter costs money. Clutter is dangerous. De-clutter your workshop or production line area with the anti-clutter, pro-smart systems from Hercke. We are tough enough and smart enough to work in any industry and improve any space. Keep tools and parts within easy, well-organized reach. Keep your team focused on what they do best, not searching for gear. Hercke is always at work making your job easier.